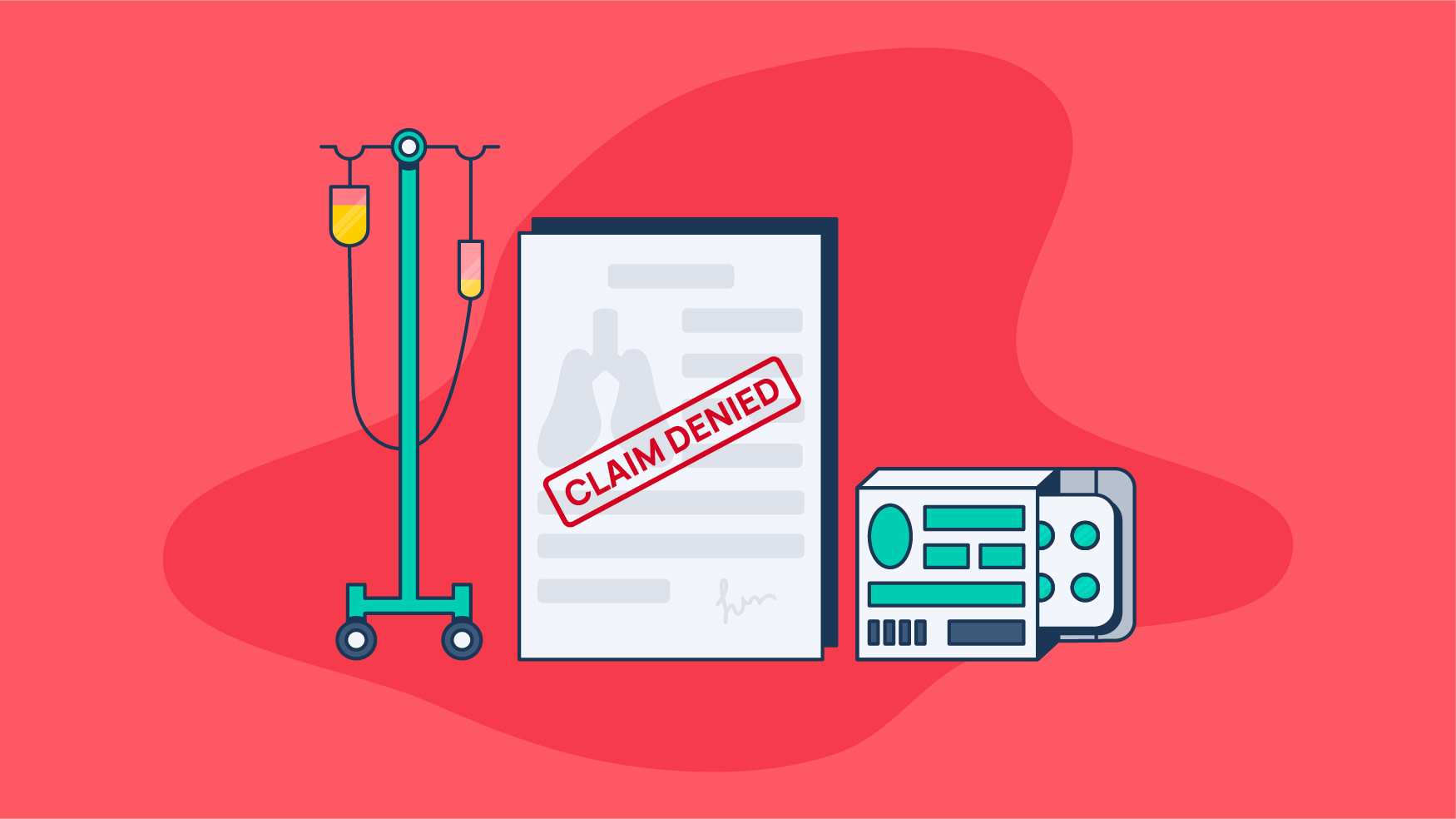 Receiving a denied medical claim can be stressful and confusing. You expected your insurance to cover a service, but now you're facing a bill for it and worry you may be responsible for the entire cost! Read on to learn what a denied medical claim means for you and what you can do about it.
What is an Insurance Denial?
When you sign up for health insurance and pay a monthly premium, you do so under the impression that your insurance will cover your medical visits and treatments. But a denied claim means that your insurance has refused to cover care you received. An insurance denial is a piece of paper that changes everything!
Suddenly, you go from relying on insurance coverage to learning that the responsibility for the entire bill rests on you alone. Depending on the service you received, this can be hundreds, thousands, or even tens of thousands of dollars. Plus, it may affect your health if a treatment you need is suddenly financially unattainable.
How Do Health Insurance Denials Happen?
After you visit a medical provider, they create a claim to send to your insurance provider by using medical codes to list your diagnosis and the corresponding treatments you received.  Then, the claim is processed by your insurance company, as they match the services against those which are covered by your plan. Using the information available, your insurance provider will decide either to cover a portion of the bill, the entire bill, or to deny their responsibility for the claim.
With most accepted claims, you can expect to pay a copay, coinsurance, or meet a deductible before your insurance coverage kicks in. When you receive a denied claim, your insurance company has decided that they are not responsible for any part of the bill, leaving the entire amount as an outstanding balance that you, the patient, owe.
What Does a Denied Claim Mean For Your Insurance?
For your insurance, a denied claim means that they don't need to pay your medical bill. Because most health insurance companies operate like private businesses, this is a win for them. Denied medical claims save health insurance providers money, at your expense.
What Does a Denied Medical Claim Mean For You?
For you, a denied medical claim can mean one of two things: either you're suddenly in for several weeks or months of battle with your insurance provider, or you must foot the bill for the denied claim. This puts you in a tricky situation. Do you have the time and energy to dedicate to fighting a denied medical claim? Do you even understand how you can go about doing so? And if your insurance continues to refuse to pay for a service, how will you afford the bill?
So many questions arise in the wake of a denied claim, and if the bill you are facing is for a significant amount, you may suddenly feel stress, pressure, and worry, too. A denied medical claim can be make-or-break for your financial situation and your health.
Have you received a denied claim and you're worried about affording your medical bill? aJust is on your side!
Get help from experts
We know how complicated this process is. Share your case with us and we will be able to help you.
What Leads to Denied Medical Claims?
There are several reasons why insurance companies deny medical claims. When you receive an Explanation of Benefits, which lays out the cost for each part of the claim and what your insurance provider's decision for coverage was, you will see the denial reason mentioned. It can be any of the following:
Claim Errors. Claim errors are fairly common and can lead to medical claims being rejected or denied. These errors can be as simple as misspelling a name or recording the wrong date of service. If an erroneous claim is rejected, it is simply sent back to the doctor for further information before the insurance processes it again.
Ineligibility for Coverage. If you weren't eligible for insurance coverage on the date you received care, your claim will be denied. Maybe your insurance plan hadn't kicked in yet, or there was a lapse in coverage if you got behind on your premium payments.
Lack of Medical Necessity. Medical necessity means that a service you received must be in treatment for a specific medical condition or be the standard process of care accepted by the medical community. For example, even if a doctor prescribes medical marijuana for your condition, your insurance provider may not view this as medically necessary. Oftentimes your insurance provider will insist that doctors start with other treatments that are more commonly practiced before they will cover medical marijuana. This is also true of other medications and services, which may be denied because of lack of medical necessity if less intensive options haven't been pursued first.
Out-of-Network Provider. Your insurance network includes all of the providers in your area who are contracted to work with your insurance company and plan. Out-of-network providers include those who are in another state or do not take your insurance. Some insurance plans cover out-of-network providers at a lower rate, while others cover exclusively in-network physicians.
Service Not Included in Your Plan. It's always important to read the terms and conditions of your plans to understand what your insurance will and will not cover. Some care, such as mental health services or physical therapy, may not be covered under your plan. Keep in mind that holistic treatments, such as acupuncture or therapeutic massage, are not usually covered by insurance plans.
Experimental Procedure or Medication. Your insurance wants your doctors to follow the standard care practices and prescribe treatments that have been studied and approved for use. If your physician prescribes a medication for your condition that is not approved to treat your condition, you'll receive a medical insurance denial. If you are enrolled to receive care in a trial, your insurance will not likely cover it.
How to Fight Health Insurance Claim Denials
Luckily, a claim denial doesn't have to be the end of the road. You are entitled to a health insurance appeal, and even if you are unsuccessful, you may be able to request an external review or lower the rate of your bill. That's the good news. The bad news is that the denial and appeal process is endlessly complicated fighting a denied claim is easier said than done!
If you are hoping to take on your insurance to get a denied claim covered, you need to be prepared for a frustrating process that may span weeks or months. You'll need to make your way through your insurance company's phone tree (which can take several tries to get to speak to a human being), wait on hold, and sort out conflicting information from the medical provider and insurance provider.
In the event that your appeal and review attempts are unsuccessful, you may still be able to get a discount on your bill. Sometimes a medical facility will offer a discounted rate, or they'll be able to set up a payment plan that allows you to pay off your bill slowly over time. This way, the facility still gets their money, and you can avoid medical bill collectors who buy up your debt and then hound you for payments.
Figuring out what discounts to ask for, however, means understanding the ins and outs of the medical billing system, and that's where aJust comes in.
How aJust Can Help With Your Denied Medical Claim
Does all of this sound daunting and complicated? That's because it is, and aJust has your back throughout it all.  As a professional medical billing advocate, aJust is prepared to take over negotiations and save you time and money.
They can step it at any time in the denied claim process, filing an appeal on your behalf, seeking an external review, or lowering your costs if appeals are not successful.
With aJust on your side, you can save up to 90% on your medical bill—which may just make all the difference!