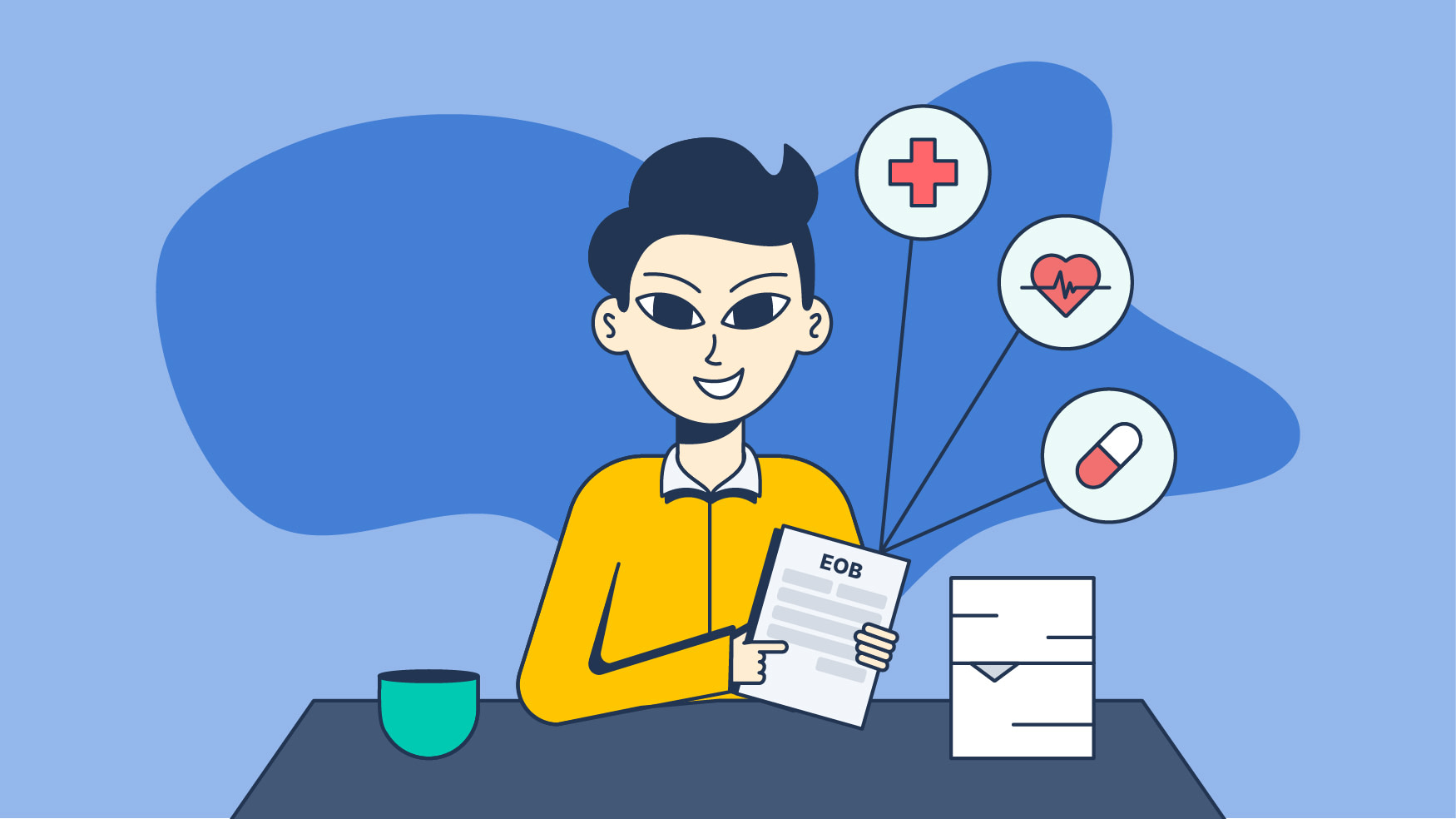 While navigating medical bills and health insurance denials, you've probably come across the term Explanation of Benefits. But what does that mean, and how can you use it in the process of negotiating a medical bill? Keep reading to learn just what your Explanation of Benefits is all about.
What is an Explanation of Benefits?
An Explanation of Benefits, or EOB, is the document that your health insurance sends you once they've processed your medical claim. Think of this document as a sort of itemized receipt, which lists all the services you received at a medical facility along with their cost before and after your insurance coverage took over. Your EOB is often the first warning of a denied claim, and your first glimpse at what you owe the medical facility for the care you received.
What an Explanation of Benefits isn't is an actual bill. The amount that the EOB shows you owe will need to be paid to your medical provider once they have sent you a bill. In some cases, the EOB will show the copay amount you owe, which you probably already paid the doctor during your visit.
See an issue with your EOB? Learn how aJust can help!
Get help from experts
We know how complicated this process is. Share your case with us and we will be able to help you.
What Does Your Explanation of Benefits Show?
While each EOB from each insurance company looks a little different, there are a few columns that should appear on most EOBs:
Date of Service. The first column you'll probably see on your EOB is the date of service, which should be the date you visited the doctor or received treatment.
Service Description. This column will describe the service you received. The descriptions may be written in professional lingo that's hard to decipher, but you should be able to recognize the service, such as the name of a test you underwent or anesthesia you received for a procedure.
Provider Charges. Provider charges show the amount that your doctor billed your insurance for the listed service.
Allowed Amount. This is the amount that the medical facility will be reimbursed. If this number is different from the provider charges, don't worry. Sometimes the charges are negotiated between your insurance and the provider, leading to a lower payment than originally requested. This won't affect the amount you owe.
Paid by Insurer. This shows how much your provider will be reimbursed by. It is the same as the last column, so your EOB may show just one or the other.
What You Owe. This is the column you need to pay the most attention to! It states how much needs to be paid after your insurance has reimbursed the medical facility.
In this section, the insurance will leave any relevant comments about the listed service. That may include a reason for a claim denial or explanation for the amount you owe, such as letting you know that the amount shown represents your coinsurance as outlined in your plan.
How Do You Find Your Explanation of Benefits?
Depending on your contact preferences, your Explanation of Benefits will either be mailed or emailed to you, or you may be able to find it in an online insurance member portal.
What Your Explanation of Benefits Has to Do With Negotiating Medical Bills
Your EOB gives you the information you need to negotiate medical bills or fight a health insurance denial. It will have the amount owed for the services you received, a statement of denial, and the reason for the denied claim. When you go to submit an appeal, you can use this information to find a solution.
For example, if the EOB lists "out-of-network provider" as the denial reason for a claim, you can do some research to discover if this is true, or if it's an obstacle with an easy solution. You may look through your insurance network to see whether or not your provider is listed, or fight the denial if that provider is the only such specialist in your area, even if they aren't contracted with your insurance.
If you are hoping to negotiate your medical debt even after insurance coverage, the EOB gives you all the information you need to reach out to the provider and discuss rates or payment plans. Compare your Explanation of Benefits to the bill you received to make sure the two match, then proceed with medical bill negotiation from there.
Call on aJust to Negotiate Your Medical Bills
While your Explanation of Benefits can help you with medical bill negotiation, it won't take care of the process for you. That means you'll still be saddled with the responsibility of contacting your insurance provider and doctor, understanding the complexities of your bill, and finding an opportunity to lower your medical debt. Since this requires in-depth knowledge of the way medical billing and health insurance claims work, you're going to need extra help.
With aJust, all you have to do is fill out this simple form with information about your medical bill. Then, sit back as aJust takes on the rest of the process for you. They can fight a denied claim using expertise that sets you up for success, or lower your medical bill in the event that you've exhausted all your other options. Unlike expensive insurance denial attorneys, you owe aJust nothing if they can't lower your bill, and you pay them just a fraction of the amount you would have owed when they save you money.