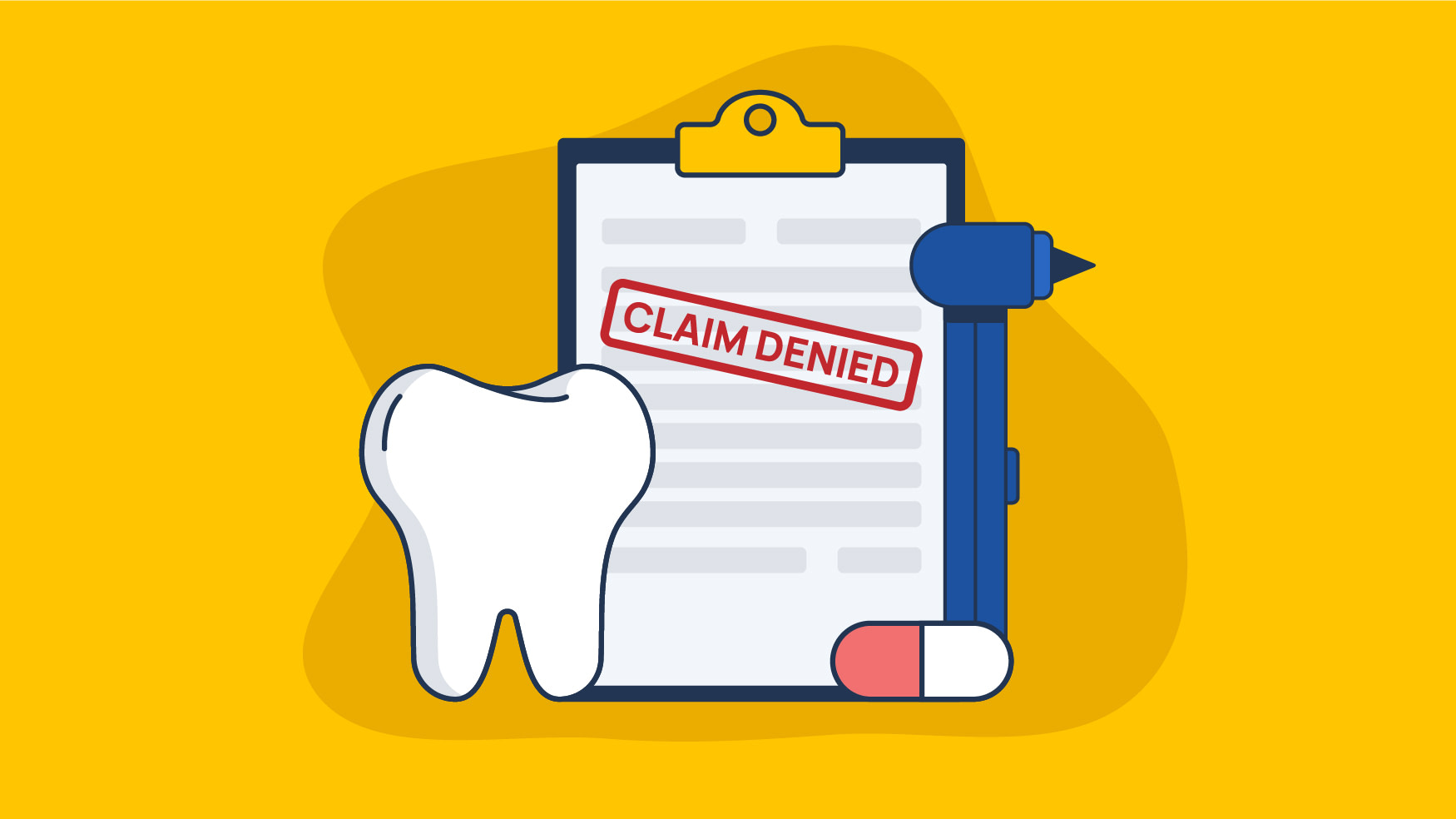 Dental claims make up a much larger chunk of the claim denial market than you might think. Comprehensive dental coverage is hard to come by, and many people are unaware that not all of their dental procedures will be paid for by insurance. Was your recent dental claim denied? Read on to learn all about dental claim denials and how aJust can help you tackle them.
Why Do Dental Claims Get Denied?
According to Dental IQ, at least half of dental claims will be sent back to dental providers for more information. While those won't necessarily end in denials, it shows you how challenging it can be to get coverage for dental treatment! If this has happened to your or you've received a dental claim denial, your insurance company probably offered one of the following reasons:
Claim Filing Errors
One of the most frequent reasons cited for why dental claims get denied is simple filing errors. Maybe your dental provider left out a crucial piece of information about a procedure they performed, misspelled your name, included an incorrect date, or used outdated insurance information. Typically this can be solved by speaking with your provider and making sure they have all the correct information they need, but it's not always that easy.
Exceeding Your Coverage Limit
Dental plans in the US are often not very extensive and may have a low coverage maximum. This means that your insurance provider will only pay for services a few times a year, or will only cover services under a certain amount of money. Some dental insurance policies only allow for teeth cleanings every six months. If your dentist recommends one every four months and you submit the claim to your insurance—here comes a denial!
Missed Deadlines
Most dental plans require that a provider submit a claim within a certain deadline. If the office is behind and they send in the claim too late, you may receive a denial and a bill for services that should have been covered.
Missing Prior Authorization
Some dental procedures must be approved by your insurance before you get them. Let's say you get an in-office X-ray that required pre-authorization, but your dentist didn't reach out to run it by your insurance provider first. You may have to foot the bill.
Your Medical Insurance Doesn't Cover Dental
Some health insurance plans include limited dental work in addition to medical treatment, so you may think you're covered when you head into the dentist's office. It may not be until weeks or months later, when you learn that the dental claim was denied, that you discover the limits to your insurance plan's coverage. This can be very frustrating!
Facing a wrongfully denied dental claim? Reach out today to learn how aJust can help!
Get help from experts
We know how complicated this process is. Share your case with us and we will be able to help you.
Delta Dental Claims
Delta Dental is one of the biggest dental insurance companies in the US, with plans in all 50 states. If you are facing a denied claim from Delta Dental, knowing their policies will help you decide your best course of action.
How Fast is Delta Dental's Claim Processing Time?
Delta typically will process claims within two weeks of receiving them. If additional information is required from you or your dental provider, this process could take longer.
What is the Delta Dental Appeal Process Like?
If your dental claim was denied by Delta Dental, you have two chances to appeal with an internal review. Here are a few important things to keep in mind when filing an appeal with Delta Dental:
The first appeal must be submitted to Delta within 180 days of the denial.
You have 60 days from a second denial to file your last internal appeal.
If Delta needs more information to process your appeal, they will write to you within 20 days.
An appeal decision is typically made within 30 days of your appeal.
MetLife Dental Claims
Top Ten Reviews calls MetLife the best dental provider for families. Even so, you still may face denied claims from MetLife. Here's a quick guide to their claims and appeal process.
How Fast is MetLife's Claim Processing Time?
MetLife is quick at processing dental claims—often they are reviewed within five business days and a response is sent within ten!
What is MetLife's Dental Appeal Process Like?
As with Delta Dental claims, you have two opportunities to appeal a denial from MetLife. Here are the quick facts on the MetLife appeal process:
Submit your first appeal no more than 180 days after receiving a denial.
MetLife only accepts appeals in writing.
You will get a response from MetLife within 30 days of receiving your appeal request.
In some cases, MetLife will take 60 days to provide a response.
Cigna Dental Claims
Investopedia names Cigna as the best overall dental insurance provider thanks to its large network and availability of different plans. Learn how to navigate the Cigna dental claims process so you know what to do in the case of a denial.
How Fast is Cigna's Claim Processing Time?
Paper claims take between 10-15 days, but electronic claims are processed within just 3-5.
What is Cigna's Dental Appeal Process Like?
This is what you should know about appealing Cigna dental claim denials:
Cigna asks that you call before submitting an appeal. Often, claim denials can be solved over the phone quickly with additional information. If that strategy fails, you can submit an official appeal.
You have 180 days from the time of your denial to file an appeal.
In California, dental providers have up to 365 days to submit an appeal.
Aetna Dental Claims
Aetna is an insurance company that has been around for a long time, and has one of the broadest networks in the business. They offer a variety of plans in three tiers to fit your budget and required coverage.
How Fast is Aetna's Claim Processing Time?
While Aetna doesn't provide a specific processing time for claims, they do say that getting your provider to submit claims electronically will save time.
What is Aetna's Dental Appeal Process Like?
You have 180 days from receipt of a denial to file an appeal.
While response time varies, typically you should hear back within 30-60 days.
How to Fight Denied Dental Claims
The most important thing to know about denied dental claims is that you don't necessarily have to accept a denial and pay for a bill that your insurance should have taken care of! If you believe that your insurance provider wrongfully denied your dental claim, you have options.
Start the Appeal Process
The first step in fighting a dental claim denial is to understand the reason it was rejected by your insurance provider so you know what you'll need to file an appeal. Then, follow your insurance company's guidelines to file an appeal and include all the necessary documents from your provider. In an effort to discourage you from filing an appeal, insurance companies often make the process confusing and full of loopholes and fine print. By reaching out for help from experts who are experienced in the appeal process, you set your appeal up for success.
That's Where aJust Comes In
The knowledgeable team at aJust is well-versed in handling dental claim denials. Whether your concern is about a Delta claim, MetLife claim denial, Cigna, or Aetna, aJust knows exactly what to do to get your claim covered.
With years of experience fighting dental insurance denials and an efficient, fast-moving team, aJust quickly takes your denied claim out of your hands and sets you up for appeal success. Why take on the dozens of phone calls, extra paperwork, and confusing dental insurance jargon if you don't have to? Let aJust take care of it for you, because you only get one chance to get this right!
Take two minutes to fill out this form, and one of our seasoned experts will reach out and do everything they can to save you money.